ACP Cartagena Tie-Up Station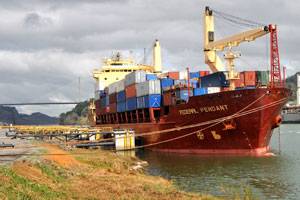 The Panama Canal Authority (ACP) announced that its second tie-up station, located at Cartagena approach, is in full operation. The new station allows the Canal to transit at least one additional vessel per day. The management of the Canal constantly strives to increase daily transits, bolster customer service, save customers money and enhance efficiency.

The way the ACP schedules vessel transits, traffic goes northbound (Pacific to Atlantic) in the morning and switches to southbound (Atlantic to Pacific) in the afternoon. Before the introduction of these tie-up stations, in the afternoon, for example, the two locks on the Pacific end of the Canal would have been idle until nearly the end of all of the southbound traffic. The tie-up stations utilize this down time by allowing northbound traffic in the afternoon to go through both the Miraflores and Pedro Miguel locks – then these ships are secured at the tie-up station, wait for all of the southbound traffic to pass and continue their transit.

"The Cartagena tie-up station allows us to transit at least one more vessel per day. Each additional vessel that we transit increases capacity, provides our customers with greater service and saves money. These modern tie-up stations are really a tribute to our staff's innovative problem solving and constant creative thinking," said ACP Executive Vice President of Operations Manuel Benítez.