Incat Crowther Launches 27.6m Catamaran Crewboat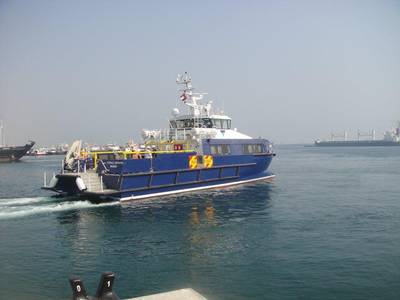 Incat Crowther has announced the launch of a second 27.6m Wave Piercing Catamaran Crew Boat, Topaz Zephyr. Based on the innovative Topaz Zenith, launched in June, Topaz Zephyr has been optimized to provide 24-hour support to offshore oil and gas operations.
The vessel differs from the earlier design by having a full width superstructure allowing greater accommodation space. Together with increased fuel capacity, this allows the vessel to operate uninterrupted over a 24 hour service pattern.
The accommodation-friendly vessel adds a bathroom to each of the two hull crew cabins. There is also an additional officer's cabin on the main deck. The hull, machinery and control stations are common to both vessels.
As with Topaz Zenith, Topaz Zephyr is fitted with a FFS 250x350HD FiFi and foredeck mounted fire monitor as well as a Sormec M18/FB/4S deck crane. The aft deck has over 50 square metres of usable deck space, forward of which is a protected passenger boarding area.
The vessel is powered by a pair of Caterpillar C32 Acert engines, each producing 1193kW at 2100rpm. The use of the same engines gives the operator commonality between the two different vessels, streamlining maintenance operations and parts inventory. At the time of going to press, Topaz Zephyr is completing sea trials before being handed over to its operator, RAK Petroleum. Incat Crowther believes Topaz Zephyr demonstrates the company's ability to create innovative, forwardthinking vessels which are founded on the principles of ruggedness and efficiency.
SPECIFICATIONS – 27.6m WAVE PIERCING CATAMARAN CREW BOAT
PRINCIPAL DIMENSIONS
Length Overall 90' 7" / 27.6m
Length Waterline 75' 6" / 23.0m
Beam Overall 24' 7" / 7.5m
Draft (hull) 4' 7" / 1.4m
Depth 10' 6" / 3.2m