Concept Catamaran Can Morph to Liftboat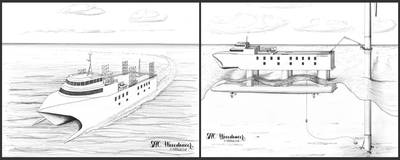 SHC Wavedancer, with a new patents pending design, is capable of transforming from a high speed catamaran to a semi-submersible platform.
The desingers believe that this innovation has enormous global potential for use in the offshore energy markets, such as platform personnel transfers and wind farm maintenance, offshore survey, inspection and installation works.

The patents pending Submersible Hull Vessel (SHV) concept is owned by OSSeas Ltd and is the only vessel which can change its own internal volume.

One application of the technology is the Submersible Hull Catamaran (SHC TM) dubbed the "SHC Wavedancer", which is essentially a high speed catamaran similar to large ferries of that class. It can transit to and from a site at around 50 knots (90 Km/h) and once on site can transform by jacking the superstructure up on vertical struts and ballasting down the two hulls.

This moves the superstructure up above the wave tops and the hulls below the wave energy zone, resulting in a very stable work platform in sea conditions other vessel would find unworkable.

Recently the Submersible Hull Catamaran (SHC) concept received much interest and many positive comments during a Middle East trade tour organised by Missionkraft, who are licenced to market the concept.
The inventor, Dennis Knox, (OSSeas Consulting) has a background in senior management in the offshore oil, gas and renewable energy, installation and construction industry. A mariner for over forty years he has first-hand experience in managing offshore projects and believes that the Submersible Hull Catamaran will become the vessel of choice for the offshore energy industry.