Incat Crowther Designs Third Catamaran for Offshore Unlimited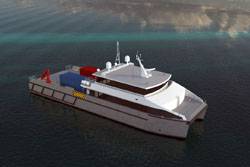 Incat Crowther is designing a 35m Catamaran Work Boat for Offshore Unlimited. The vessel will be the third vessel resulting from the three-way partnership between builder Richardson Devine Marine, Incat Crowther and the operator.

The three partners have already developed the 24m Catamaran Unlimited in 2008 and the 28m Limitless in 2010. This third vessel will benefit from the experience gained by the operator, designer and builder from these earlier vessels.

The vessel will be designed to carry 125t of deadweight, with capacity for up to 50 passengers on day operations and 32 berths for overnight operations. Work spaces will abound, with desks in every cabin and an upper deck workspace with 14 seats. This workspace will be fitted with direct wireways to the aft deck to allow for quick installation and configuration of deck mounted equipment, whilst an adjacent bathroom improves functionality.

Two large cabins on the upper deck will feature half-height glass bulkheads with blinds to allow interaction between the workspace and the helm. The main deck cabin will house a wet room with lockers and bathroom, lounge, galley, mess, medical room, and 6 cabins. A pair of these cabins will be able to be joined by retracting a dividing wall, creating a large 4-berth cabin.

The vessel's hulls will house another 6 cabins, 4 of which will also feature a sliding joining partition. In addition to these cabins, the hulls will house refrigerator and freezer rooms, service and storage spaces. The aft working deck will feature over 160 square meters of work space: enough to accommodate a quartet of 20-foot containers. A Heila HLM 35-4S deck crane will be fitted with remote control. A moon pool will also be fitted with mounts for a removable luffing A-Frame with 20-ton capacity.

The vessel will be powered by a pair of Caterpillar C32 ACERT main engines, each producing 1655hp. A pair of five-bladed propellers will provide propulsion. Service speed will be 20 knots and the range will be 1800nm. Maneuvering will be enhanced by a pair of Westmar bow thrusters.