C&C Marine and Repair Continues Shipyard Expansion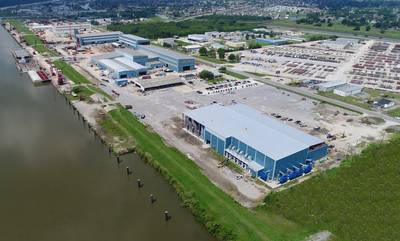 Belle Chasse, La. based C&C Marine and Repair said it has expanded its shipyard with the acquisition of another 1,000 linear feet of bulkhead, along with a 16,725 square foot Spooling Shop equipped with two 20 ton overhead cranes.
With this latest expansion, C&C Marine and Repair now has 3,200 linear feet of continuous waterfrontage along the Gulf Intracoastal Waterway (Algiers Canal), and more than 470,000 square feet of area under roof. The C&C Marine and Repair facility sits on over 80 acres and includes eight large fabrication bays, 24 overhead gantry cranes, four KAMAG transporters and three dry docks.
The most recent expansion follows several completed and ongoing improvements to the shipyard, including the completion of a new corporate office, the installation of new pilings to add 900 feet of mooring capability to the existing dock and the nearly completed state-of-the-art 83,350 square foot climate-controlled, robotic blast and paint buildings.
"For the past 20 years, C&C Marine and Repair has been continually growing, but over the past two years the growth has been accelerated," said Tony Cibilich, owner of C&C Marine and Repair. "It started with the acquisition and expansion into the old Bean Dredging yard and continues with this latest acquisition of a portion of the Versabar yard.
"All of these additions have made C & C Marine and Repair well positioned to maintain its role as a technological leader and innovator in the marine fabrication and repair industry," Cibilich said.