Stork Celebrates Safety at REACH Awards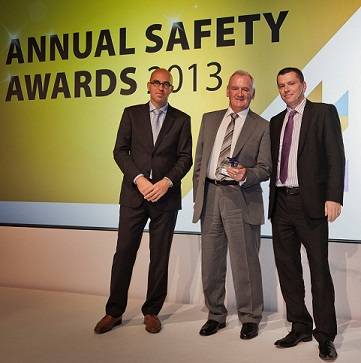 Stork Technical Services, a global provider of asset integrity management services for the oil and gas, chemical and power sectors, celebrated a year of outstanding safety performance at its first global REACH Annual Safety Awards (Thursday, June 20).

The awards recognize Stork employees and teams who, throughout 2012, delivered exceptional safety performance in line with the values of the company's REACH safety initiative.

Around 80 Industry leaders and guests from across the globe attended the ceremony at the Grand Hotel Huis Ter Duin, Noordwijk, Netherlands. James Gorry added poignancy to the evening as keynote speaker with his story of how he lost the use of his legs in a preventable industrial incident and the effect it has had on him and his family.

The Safety Leadership award was won by John O'Donnell, Services Focal Point (U.K.) for demonstrating consistent, proactive leadership and participation on safety issues with regards his own team, client management and fellow contractors.

Mansour Alrahmmany, Engineer (Saudi Arabia), was rewarded with the Most Promising Individual Award for his excellent attitude to safety and constantly promoting the use of safety tools and communications to his colleagues and wider team.

The Incident Prevention Award went to George Hernandez, Foreman (U.S.), after his vigilant behavior prevented a potential incident.

The Best Safety Performance Award recognized the Cerrejon Welding Contract (Colombia) which achieved 365 days without incident within the welding area.

Stork's GLT+ Maintenance Team (Netherlands), won the Best Team of the Year award for achieving its goal 0 target set for 2012 by making safety their number one priority.

The Scaffold Design Team (U.K.) won the award for Safety Innovation for developing the Inertia Reel Anchor which allows scaffolders to safely attach their complete fall arrest equipment to any application of scaffold in locations where there is no adjacent steelwork.