Full-term Certificates for "MV. Ceylon Breeze" from DNV GL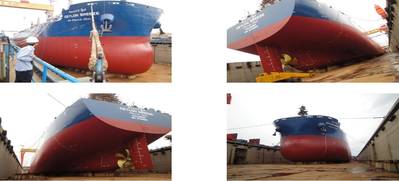 DNV GL has added to its registry as of March 2016 a new vessel built for Ceylon Shipping Corporation (CSC), a fully Sri Lanka Government-owned commercial enterprise and company with a 45-year-long tradition in shipping.
Bulk carrier "Ceylon Breeze" built at the AVIC Weihai Shipyard Co, Ltd China will be flying the Sri Lanka Flag, with home port Colombo and is the first of two sister vessels having a registered length of 199 metres and displacement of 63,323 DWT, the CSC said in a media announcement.
According to a report in The Sunday Times Sri Lanka, the vessel was built to DNV GL Class Rules under close supervision of CSC's own supervisors and the DNV GL consultants. Recently the full-term certificates of MV. Ceylon Breeze were handed over to CSC Chairman Shashi Dhanatunge by DNV GL Country Manager – Maritime, Lal de Silva.
Dhanatunge confirmed that the Board of Directors of CSC instructed its Technical Manger and onsite supervisors to focus on the quality and finish in addition to the guaranteed performance and class agreed by the shipyard.
Being a great supporter of the national maritime agenda and well aware of difficulties young Sri Lankan seafarers are facing in gaining first seaman's experience 'Ceylon Shipping Corporation Ltd.' created an additional 26 berths for cadets, a unique provision for this type of vessel. This will provide a stable stream of seafarers to the benefit of
Sri Lanka maritime
community and the national economy at large.