Omnipure Series 55 Receives USCG Certification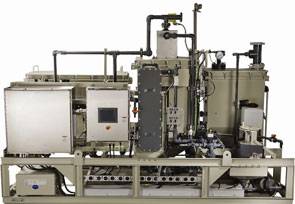 Omnipure Series 55 marine sanitation treatment systems from Severn Trent De Nora have received final certification from the United States Coast Guard (USCG) to the International Maritime Organization's MEPC.159(55) effluent standards. Certification by the USCG involves testing environmental standards such as shock and vibration above and beyond IMO requirements. The Omnipure Series 55 technology utilizes a unique electrolytic treatment process, combined with electrocoagulation to both effectively treat wastewater and provide sanitary solids for handling.

Marine sanitation treatment systems treat sewage from offshore work applications and help lessen the environmental impact of contaminants. The Omnipure electrolytic process generates a powerful oxidant from seawater to effectively disinfect biological wastes.

The OMNIPURE Series 55 systems can accommodate treatment capacities up to 598 persons for black water and up to 197 persons for black and gray water. The Omnipure Series 55 systems range in capacity up to 65 m3/day (17,280 gal/day)as individual units that can also be combined for increased capacity. The systems provide effective electrolytic treatment of both black and gray water through a proprietary and certified treatment process.

The Omnipure Series 55 process ensures compliant effluent discharges while providing operational benefits such as a small footprint, light weight, easy to install, automatic system that automatically removes concentrated solids insitu to the treatment process. The Omnipure 55 systems have Bureau Veritas certification for IMO Resolution MEPC.159(55) and also comply with the EU MED and carry the Wheel Mark.