Iran's Chabahar Port Signs Pact with India Ports Global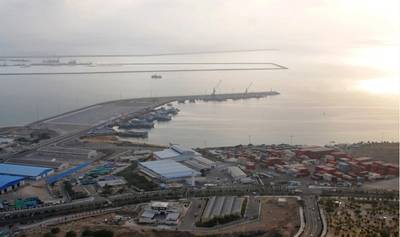 India Ports Global has signed a contract with Aria Banader of Iran to equip and operate two terminals at Chabahar - Shahid -Beheshti Port in Iran for transportation of goods and other purposes.
"As per Article 6 of the contract, effort are to be made to commence commercial operations at Chabahar –Shahid- Beheshti Port in Iran within 18 months from the contract activation date or 4 months from the date on which the Lessor hands over the Terminals and the infrastructure facilities to the Lessee in accordance with the terms of the Contract," said a press release from the government.
India Ports Global Private Limited (IPGPL) is a joint venture between Jawaharlal Nehru Port Trust (JNPT) and Kandla Port Trust (KPT). The Ministry of Shipping has presently assigned IPGPL the task of equipping and operating Container / Multi-purpose Terminals at Chabahar in Iran.
New Delhi has committed to invest $500 million in Chabahar's first phase of development, which includes a $150 million credit facility to Iran through the Export-Import Bank of India. "