BCGP Delivers Boston Whaler 350 Challenger to Ohio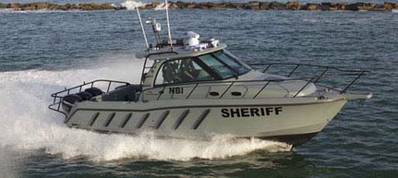 Brunswick Commercial and Government Products (BCGP) delivered a 350 Challenger to the Lorain County Sheriff's Department in Ohio, where it will be used to patrol the border between the U.S. and Canada on Lake Erie. The Sheriff's Department is part of a 58-agency task force known as the Northern Border Initiative (NBI). This task force is funded through federal security grant funds administered by the Ohio Department of Public Safety, Division of Homeland Security.
The 350 Challenger is a new Boston Whaler model manufactured by BCGP for military, law enforcement, port security, search and rescue (SAR), and workboat operations. The Boston Whaler brand is popular in commercial and military applications because of its durability and "unsinkable" construction. The NBI fleet already has several other Boston Whalers in service.
In addition to its rescue and law enforcement duties, NBI is tasked with scanning watercraft coming across the border for potential radiological or nuclear threats. To help the agency address this requirement, BCGP custom-installed an optional Thermo Scientific RadSPEC unit
on the 350 Challenger to detect and identify radiation. When the device detects hazardous material on a vessel, its 'reach-back' feature can upload the data immediately to an analysis center, giving officers real-time feedback about the potential threat. Additional electronic options on the NBI unit include FLIR night vision, light bar, hailer, and redundant radio and navigation systems.
Chief Deputy Dennis Cavanaugh of the Lorain County Sheriff's office, said, "Lake Erie is the first stop into the continental U.S. for many major international freighters, so with the radiological detection unit, this boat will afford us the best opportunity to catch anything dangerous coming across the border."
Olen Martin, captain of operations for the NBI, said, "We chose the 350 Challenger for its size and its ability to conduct long-range patrols. The addition of this boat to our fleet gives us the flexibility for longer-term operations, whether we're doing search and rescue or command and control. We'll have the ability to spend days on the water."
This new 35-ft, 11-inch walkaround cabin model features an open cockpit and center helm layout for 360 degree access to facilitate boardings and other maneuvers. Its deep-V hull affords smoother rides in rough water, while its 11-ft, 8-inch beam provides both ample deck space for crew and gear as well as excellent lateral stability. A recessed walkaround, flanked by strategically-placed grab rails, promotes bow access even in adverse conditions. The 350 Challenger holds 421 gallons of fuel, and can be powered by dual or triple outboard engines up to 900 total horsepower.
The helm station can seat up to four and includes an integrated hardtop with vented glass windshield and two hatches in the hardtop promoting ventilation, weather protection and a more comfortable environment for the crew. The helm deck can be completely enclosed with aft weather curtains to fully protect the passengers from driving wind and rain. An 18,000 BTU reverse cycle air conditioner with climate control is standard.
The helm console can accommodate up to two 15-inch electronics displays, multiple flush mounted radios, autopilot and more. With the helm on centerline, the captain has good visibility and does not impede crew access to the cabin. For docking, boarding, or conducting security checks alongside other watercraft, a standard bow thruster provides the helmsman additional control. Optional hull rub strakes protect against hull damage to -- and from -- structures or other boats.
The 350 Challenger's cabin interior can be configured to house four to six workstations, including optional laptop docking stations, white boards, mounted displays, conference tables, locking storage, and more. Additional laptop docking stations can be installed at the helm or within a secure aft cockpit work area. For crew comfort during extended patrols, the 350 Challenger comes standard with a fully-featured galley, mid-cabin berth and head/wet room, a 12,000 BTU reverse cycle cabin air conditioner and an 8kW generator are also standard