Moody's: Challenges Ahead for Asian Port Operators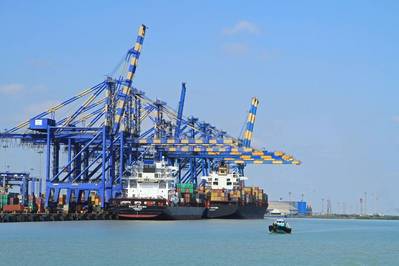 Moody's Investors Service says lackluster global growth, weak commodity prices, high capital expenditure commitments and a liner industry struggling with overcapacity is testing the resilience of Asian port operators.
"While the rated port operators in Asia have scope for cost cuts and are generally supported by their dominant market position, their resilience is being tested by these challenging operating conditions," says Ray Tay, a Moody's Vice President and Senior Analyst.
Moody's conclusions are contained in its just-released report, entitled "Rated Port Operators -- Asia: Challenges on the Rise".
The port operators in the region are grappling with slowing or negative growth in cargo volumes due to China's (Aa3 negative) slowdown, sluggish growth in
Europe
, and persistently weak commodity prices.
"The port operators also have substantial capex commitments as they seek to cater to ever-larger ships entering service, while overcapacity in the liner industry is making it harder for ports to pass on these capex costs to their customers," adds Tay.
Across Asia, Moody's notes transshipment ports where containers are reloaded onto new vessels -- such as PSA Corporation Limited (Aa1 stable) and Hutchison Port Holdings Trust (Baa1 stable) are more affected than gateway ports where containers reach their final destination -- such as Shanghai International Port (Group) Co., Ltd (A1 stable) and Adani Ports and
Special Economic Zone Limited
(Baa3 negative).
This is because transshipment ports are more subject to competitive pressure, whereas gateway ports benefit from innate demand as they serve regions with major populations and industrial centers.
Overcapacity in the liner industry -- the key customers of port operators -- is also pressuring the operators' margins. Moody's forecast global containership capacity will increase by 4.5%-5.5% in 2016, outpacing the expected demand growth of 1.5%-2.5%.
Consequently, shipping lines are facing significant pressure on freight rates, which in turn will make it increasingly difficult for port operators to negotiate higher container handling chargers.
Nevertheless, Moody's expects that the port operators that it rates across Asia have sufficient headroom to weather these trends for the next one to two years.
In particular, most rated container port operators have scope to take corrective measures such as debt, dividend and capex reductions, while they also benefit from dominant market positions that underpin continued cash flow generation.