Champagne Smashes as Grampian Tyne SOV is Named for Dogger Bank Wind Farm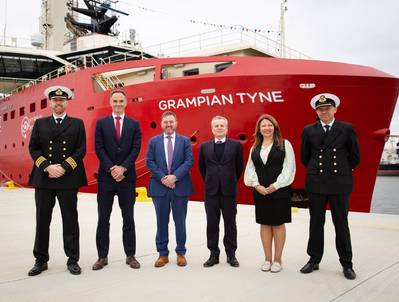 UK-based offshore vessel owner North Star this week held a naming ceremony for the Grampian Tyne service operation vessel (SOV) which will be deployed at work at the Dogger Bank offshore wind farm in the UK.
The vessel was named at a ceremony at Equinor's Port of Tyne base in the North East of England (UK), ahead of its early handover to the Dogger Bank Wind Farm.
The traditional good luck celebration, involving the customary champagne bottle being smashed against the hull of the ship, was successfully carried out by the ship's godmother, Lindsay Gordon, wife of North Star CEO, Matthew Gordon.
The Grampian Tyne vessel is of VARD 4 12-design and is one of four destined for decade-long minimum charters to support operations and maintenance (O&M) work at the Dogger Bank offshore wind farm and its partners Equinor (40%), SSE Renewables (40%), and Vårgrønn (20%).
Once the wind farm is fully completed, it will be the largest in the world, producing enough electricity to power six million British homes.
Matthew Gordon, North Star CEO, said: "Being able to welcome our clients and esteemed guests onboard the Grampian Tyne in all her glory has been an incredibly proud moment for the entire North Star team and everyone involved in its design and construction. The significance of the name is not just a simple nod to the river, but to the people and the community this vessel and wind farm serve. We're extremely proud of the links being built with the local supply chain with a rich history of shipping on this waterway.
All three remaining hybrid-electric powered SOV newbuilds, being built by VARD, are on track for being operational at Dogger Bank A, B and C by 2026
The Grampian Tyne is equipped with medium speed MGO power generation gensets with hybrid battery architecture in-built, coupled with Voith-Schneider eVSP propulsion package to maximize the operating envelope offshore, reduce fuel burn and improve comfort for all on board.
The inclusion of a side loading logistics concept allows quayside reloading directly to the SOV-covered main deck warehouse facility for both the client's cargo and ships stores safely and efficiently, North Star said.
The SOV is equipped with a bespoke new concept and designed daughter craft for effective high performance, safe and efficient offshore support of technician and cargo deployment, engineered to perform in up to 1.7m Hs sea-state, the shipowner added.
Each SOV is being built at VARD's facilities in Vietnam. The Grace Darling, named after the British lighthouse keeper's daughter who rescued survivors from a wrecked steamship off the coast of Northumberland in 1838, is North Star's first of its associated hybrid-powered daughter craft used primarily as crew transfer vessels, was designed in collaboration with leading naval architects, Southampton-based Chartwell Marine. The SOV workboat was built by Alicat Workboats in Great Yarmouth.
Last month (May), North Star contracted VARD for up to a further four new offshore wind vessels.
"The new commissioning service operation vessels (CSOVs) take the firm a step closer to its ambition of expanding its fleet with 40 renewables fleet by 2040 to support the growing UK and European markets," North Star said.
---