Charitable Aid Ship 'Logos Hope' Floats Out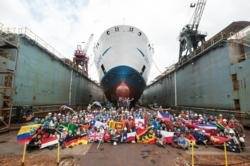 OM Ships' 'Logos Hope' leaves the floating dry dock in Subic Bay, Philippines, after 90 days technical maintenance.
Further works remain to be completed before the vessel can resume sailing, but Logos Hope's refloating is a major step towards launching into the schedule of planned port visits for the remainder of 2012.
The ship was in dock for annual maintenance, including servicing of lifeboats and cleaning and repainting the ship's hull. Yet surveys done in the dock revealed urgent steel work needing attention, which caused significant delays.
Additionally, much preparation for the 'Power Up Logos Hope' project has been taking place. This vital project involves replacing two older generators and the main switchboard and installing a heat recovery system, now scheduled for early 2014.
The work of the all-volunteer crew on board has been significantly boosted by over 90 "project workers ". These individuals from around the world have chosen to also give their technical skills and time, some for a week or two, others for longer, to help the projects proceed. More plumbers and electricians are still urgently needed to finish the long list of outstanding tasks.
OM Ships International's operational costs are met by sponsorship of onboard personnel, general donations and gifts, reductions and waivers of fees by civic and port authorities, book sales, and corporate support in each port of call.