Thai Owners Charter Out DSV 'Mermaid Endurer' for N. Sea Work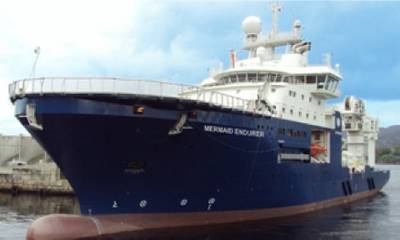 Mermaid Maritime's subsidiary Subtech Ltd. has been awarded a subsea services contract with Bibby Offshore Limited for services in the North Sea. This contract will utilize the DP2 Dive Support Vessel 'Mermaid Endurer' for inspection, repair and maintenance services & light construction intervention.
The contract is scheduled to commence in the second calendar quarter of 2014 for a term ending in the fourth calendar quarter of 2014, with options for extension subject to mutual agreement. The vessel will arrive in the North Sea in early 2014 and will be marketed for opportunities in the spot market before commencement of the contract.

"The Mermaid Endurer was built in Norway, specifically for these conditions, and we are confident that we can fulfill Bibby Offshore's expectations,"said Mr. Chalermchai Mahagitsiri, Chief Executive Officer, Mermaid Maritime.
"This contract marks Mermaid's successful re-entry into the North Sea market at a particularly exciting time over there. The contract covers all facets of the Mermaid group namely, Mermaid Offshore's marine division, Subtech's diving, inspection and IRM division, Subtech's ROV department and Seascape's survey division," said Mr. Paul Whiley, Executive Director of Mermaid's subsea division.