Half-way Mark in BBC Chartering's Newbuild Program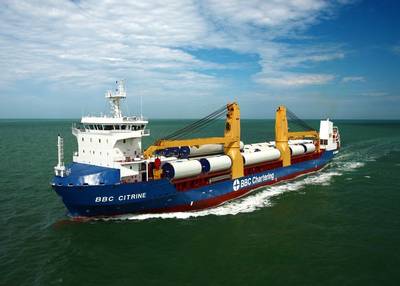 German owner of multipurpose & heavy lift tonnage, BBC Chartering, announce that half of its 22 unit heavy lift new-building program is now operational.

Two vessel series form the basis of this heavy lift fleet new-build program. One is the 14,360dwt 'BBC Amber' type of which 14 units are built, featuring 2x 400 mt lifting capacity, and the second is the 'BBC Everest' type of which eight units are built with 2x 350 mt lifting gear.

The company took delivery of the 'BBC Citrine' in August 2012, the fifth new-building of the 14,360dwt series, and earlier in July of the 'BBC Rushmore', the sixth new-building of the 9,300 dwt series. With eleven of twenty-two vessels being operational BBC Chartering has reached project halftime and Svend Andersen, CEO of BBC Chartering, dares a glimpse into the future:

"The project and heavy lift shipping market remains difficult and challenges the whole industry. Although today's situation at the halftime of the program is not delivering the originally desired results, we are confident this step represents a meaningful service innovation for clients managing project and heavy lift logistics worldwide."

BBC Chartering expects the new building program to be fully deployed by the end of 2013, beginning of 2014.