Chief of Naval Operations Visits Austal USA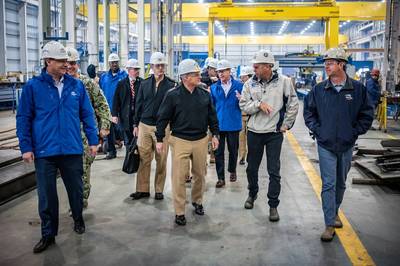 Austal USA welcomed U.S. Navy Chief of Naval Operations (CNO) Admiral Michael Gilday at the company's Mobile, Ala. shipyard.
The CNO toured the shipyard's facility and discussed the company's growing diversity of design and shipbuilding contracts. During his tour, the CNO witnessed the production of both steel and aluminum ships in the company's 867,000-sq. ft. module manufacturing facility, including operations supporting the submarine industrial base.
Austal USA leadership briefed the CNO on the company's involvement in several autonomous surface vessel programs, including the successful addition of autonomous capabilities to EPF 13, construction and retrofit of Overlord-class vessels that will feature Austal's in-house designed machinery control system as well as production of Saildrone's high-tech uncrewed surface vehicle Surveyor.
Austal's leadership took advantage of this opportunity to discuss the company's support of General Dynamics Electric Boat on the Navy's Virginia and Columbia-class submarine programs and Huntington Ingalls Industries' Newport News Shipbuilding on their Ford-class aircraft carrier contracts.
Coinciding with Austal USA's facility investments totaling more than $560 million, are expansions to its product lines. Growing from being the prime contractor of the Independence-variant Littoral Combat Ship and EPF programs, Austal USA is now under contract for numerous additional shipbuilding programs across the Navy and Coast Guard.
Austal USA has delivered 28 battle force ships to the Navy since 2009. The company's investments have also included the establishment of ship service facilities in Mobile, Ala., San Diego, Calif., and Singapore and a facility for advanced technologies in Charlottesville, Va.