China to Push LNG Shipbuilding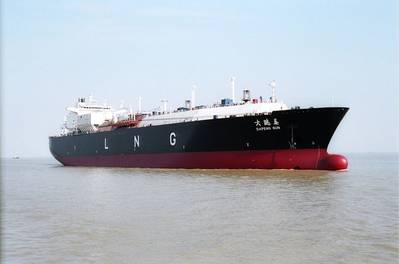 China would like to compete with South Korea in the field of building liquefied natural gas (LNG) carriers building.

South Korea has won 86 percent of the world's total orders or 52 orders for LNG carriers so far in 2018, according to Clarkson Research. The remaining nine orders were shared by companies from China, Singapore and Japan.

Though China leads offshore engineering products and mega container vessel shipbuilding sectors, the country is a laggard in LNG shipbuilding.

A recent report in the country's official media China Daily quoted Tan Naifen, deputy secretary-general of the China Association of the National Shipbuilding Industry (CANSI) as saing: "The global demand for LNG carriers will continue to surge in the long term, thanks to eco-friendly energy policy measures from China, India and many European countries, as well as the strong push of Russia, Australia and the United States for energy exports."

The report pointed out that building LNG carriers requires more advanced technology than what is used to make conventional storage tanks. They need to store LNG at a temperature of-163 C and are mostly powered by steam turbines. Each LNG carrier can be sold for $200 million to $250 million.

Tan said that it's time for capable Chinese shipyards to make complex, high value-added vessels to reach buyers in new segments through international collaboration, research and development activities

At present, China's LNG import is still heavily dependent on foreign LNG carriers, with external capacity dependence rate around 60 percent. Only 13 shipyards are able to produce them across the world.

Shanghai-based Hudong-Zhonghua Shipbuilding (Group) Co, China's only builder of large LNG carriers which delivered 17 LNG carriers to shipowners throughout the world since 2008.

Meanwhile, CANSI data revealed that China's shipbuilders completed 32.93 million deadweight tons of new vessels over January-November, lower by 14% year on year.