New China-built Sri Lanka Container Terminal to Rival Majors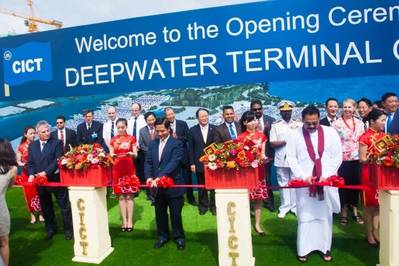 The newly-opened $500 million Chinese-built Colombo terminal is situated about mid-way on the important East/West shipping route and is claimed to have facilities on a par with Singapore and Dubai.
The Colombo International Container Terminal (CICT), which is 85 per cent owned by the state-run China Merchant Holdings International, is designed to handle mega ships -- a first for Sri Lanka which is aiming to become the region's shipping hub.

His Excellency, Mahinda Rajapakse, the President of the Democratic Socialist Republic of Sri Lanka and Mr. Li Jianhong, the President of China Merchants Group attended the ceremony, and cut the ribbon to officially commission the lifting of the first container.
In the morning of the opening the 12,000 teu container vessel CMA CMG Pegasus berthed alongside the brand new CICT berth, whcih created history by being the first ever ultra large container carrier to enter the Port of Colombo.

Prior to the opening ceremony, Dr. Hu Jianhua, Mr. Liu Yunshu, Chief Operation Officer of CMHI and CEO of CICT, Mr. Farid T. Salem, Executive Officer and Director of CMA CGM and Captain Nihal, Managing Director of Sri Lanka Ports Authority, boarded the Vessel for the traditional exchange of plaques between the Ship and the Terminal.

Also during the day, Mr. Li Jianhong was interviewed by Xinhua News Agency at the opening ceremony site and answered the journalist's questions regarding CICT's influence on Sri Lanka and the Asian Pacific regions. He emphasized the leading role played by China Merchants Group especially in the field of Shipping and Container Terminal industry and discussed future investment opportunities in Sri Lanka.