Incat Crowther Delivers Chinese-Built 35m CAT Ferries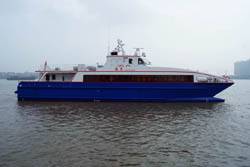 Incat Crowther announced the delivery of two 35m Catamaran Passenger Ferries built by Afai Southern Shipyard in China.
Hai Ju and Hai Yao were commissioned by Zhuhai High Speed Ferry Co, following a competitive tender process. Incat Crowther is proud of its partnership with Afai Southern Shipyard in both the successful bid and the construction process.
The vessels accommodate 198 passengers, all seated on the main deck in comfortable reclining seats. A large bar is situated amidships, serving beverages and snacks as well as offering a tourist information service.
A pair of VIP rooms is located at the aft end of the main passenger cabin, each offering 6 business class seats with a small table. A large crew accommodation space is located aft, adjacent to the passenger amenities. This area features a pantry, electrical rooms and a bunk room for 6 crew members.
The vessels are powered by MTU 16V2000 M70 main engines, each producing 1050kW. Hai Ju and Hai Yao have both completed sea trials. The vessels comfortably achieved their loaded service speed of 28 knots. Of over 340 vessels built worldwide to Incat Crowther designs, over 20 have been constructed in Chinese shipyards. Afai Southern recently delivered a pair of 34m Catamaran Ferries, Xun Long 5 and Xun Long 6. In addition, a pair of 36m Monohull Crewboats are under construction at Cheoy Lee's facility in Doumen, South China.

Incat Crowther's relationship with Chinese yards such as AFAI and Cheoy Lee opens up new opportunities for operators worldwide to source high quality Chinese built vessels, whilst giving operators in China access to Incat Crowther's world leading product range.
SPECIFICATIONS - 35m CATAMARAN FERRY – DESIGN IC1022
PRINCIPAL DIMENSIONS
Length Overall 114' 6"/ 34.9m
Length Waterline 108' 3"/ 33.0m
Beam Overall 29' 6"/ 9.0m
Depth 11' 6" / 3.5m
Construction Marine Grade Aluminium
CAPACITIES
Fuel Oil 1320 gallons / 5 000 litres
Fresh Water 265 gallons / 1 000 litres
Sullage 265 gallons / 1 000 litres
Passengers 198
Crew 9
PROPULSION AND PERFORMANCE
Speed (Service) 28 knots
Speed (Max) 29 knots
Main Engines 2 x MTU 16V 2000 M70
Power 2 x 1050 kW @ 2100 rpm
Propulsion 2 x Fixed-pitch Copper Alloy Propellers
Gearbox 2 x ZF 4650
Generators 2 x Cummins Genset CCFJ-75JYA, 75Kw, 50Hz
REGULATORY
Class / Survey CCS CSAD, Catamaran HSC Passenger A
Coastal Service Restriction
Flag China MSA