SEACOR Marine Chooses MTU engines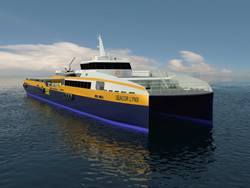 SEACOR Marine has selected marine diesel engines from the Tognum brand MTU for its latest pair of fast supply vessels.
The two vessels, SEACOR Lynx and SEACOR Leopard, will have an overall length of 190 feet and the capacity to carry up to 150 passengers. The vessels will also have the capacity to carry 150 tons of deck cargo and the ability to achieve speeds of 46 knots.

Each vessel will be powered by four MTU 16V 4000 M73L engines rated at 3,860 bhp at 2,050 RPM.

"The high-speed capability is important because of the long distances involved and the need for fast transportation of crews and time-sensitive cargo to the rigs," said Joe McCall of SEACOR Marine. "We felt that the MTU engines with their high power-to-weight ratio and low fuel consumption were the best engines to fit the hull configuration of new SEACOR Lynx and SEACOR Leopard. Dealer support and previous experience with MTU were also important."

The new vessels will join two other MTU-powered high-speed catamarans operated by SEACOR Marine, SEACOR Cougar and SEACOR Cheetah. Both have been in service for over four years. Like the existing craft, the two new vessels will feature Hamilton jet drives and Twin Disc marine gears. According to McCall, the jet drives are favored over propellers for better top-end speed.

SEACOR Marine will also install the MTU Callosum System in the SEACOR Lynx and SEACOR Leopard. The Callosum System is MTU's latest generation of an integrated shipboard monitoring and control system, which not only monitors the propulsion engines, but also the marine gears, onboard generator sets and a majority of other vessel systems. This allows the operator to view virtually all vessel activities on the same screen at any time.

The two new vessels are currently under construction at the Gulf Craft Shipyard in Franklin, La. The SEACOR Lynx is scheduled to be launched in January 2013 and the SEACOR Leopard launch is planned for April 2013.