Cenac Marine to Christen New Vessel, Donate Barge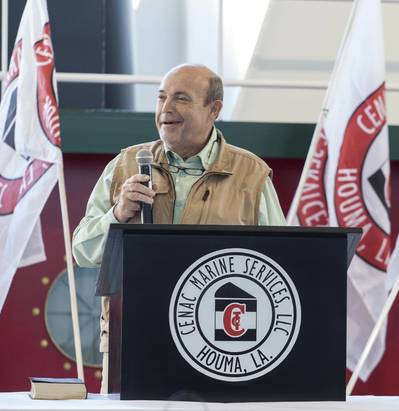 A ceremony will be held July 29 at Cenac Marine Services headquarters in, Houma, La. To commemorate the christening of its newest vessel, M/V Quincey Cenac, as well as the company's donation of a spud barge to Terrebonne Parish.
The newest addition to Cenac's growing fleet, M/V Quincey Cenac is the 24th and final vessel in its most recent series. Cenac Marine Services said a new series of vessels is in development for the near future.
The donated spud barge will be utilized by the parish to transport equipment for levee conservation and upkeep. The barge features a gate, spuds and hydraulic units needed to haul and secure such equipment to and from each location.
Arlen "Benny" Cenac, philanthropist and owner of Cenac Marine Services, has had a passion for coastal preservation for many years. "Trying to preserve our heritage and our way of living has always occupied a special place in my heart," Cenac said. "Our donation of this barge is just one more way to show Cenac's commitment to protecting our parish."
"We will continue to look for ways to partner with government to ensure the future of this area is bright," he added.
Reggie Dupre Jr., Terrebonne Levee and Conservation District Director, has expressed excitement about the new barge in a statement released this week: "This barge will allow us to transfer heavy equipment, replacement parts and personnel to our multiple 'island' levees that are only accessible by water. This generous donation will save us significant money on rental equipment and allow us to expedite repairs and maintenance on our own schedule."
Terrebonne Parish President, Gordon E. Dove, recently stated, "Levee protection and coastal restoration are my highest priorities for Terrebonne Parish. Benny Cenac and Cenac Towing are showing what can be accomplished with private/public partnerships."