Seabourn Ovation Christened in Malta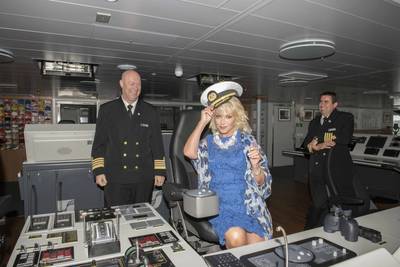 Carnival Corporation's luxury cruise brand Seabourn introduced its newest vessel with a naming ceremony for Seabourn Ovation in the harbor of Valletta, Malta.
Seabourn Ovation is the fifth ultra-luxury vessel to join the Seabourn fleet over the past decade, and the second of two ships designed for the line by hospitality design icon Adam D. Tihany.
Seabourn Ovation was delivered on April 27 during an official handover ceremony at the Fincantieri shipyard in Genoa, Italy. Following the delivery ceremony, Seabourn Ovation began her maiden season with an 11-day inaugural voyage departing May 5 from Venice, Italy, and culminating with its arrival in Barcelona, Spain.
"The launch of Seabourn Ovation brings us to a new era for Seabourn where we further reinforce our position as the newest, most consistent fleet in the ultra-luxury cruise category," said Richard Meadows, president of Seabourn. "The ship is another major step forward in the growth of Seabourn and an opportunity for us to provide guests with the finest luxury travel experience available at sea today. Like her sisters in our fleet, Seabourn Ovation is such a beautiful ship, and I know that guests and cruise industry observers are going to be very impressed from the moment they step on board."
Seabourn orchestrated a line-up of celebratory events, including fireworks and a live performance by the ship's godmother, actress and singer Elaine Paige OBE. Following her performance, she made a traditional blessing and released a bottle of champagne that was broken against the ship.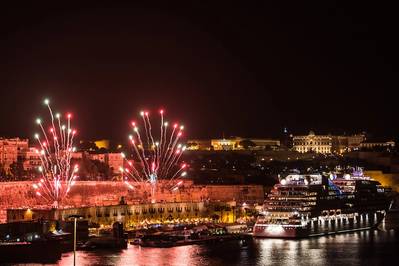 Luxury cruise line Seabourn has introduced its newest vessel, Seabourn Ovation, with the first-ever cruise ship naming ceremony held at the Valletta Grand Harbour, Malta on Friday May 11. (Photo: Valletta Cruise Port)
Seabourn Ovation will spend most of its maiden season cruising the waters of Northern Europe, offering a series of seven-day Baltic and Scandinavian sailings between Copenhagen and Stockholm. The ship will also sail on longer 14-day voyages, visiting the Norwegian fjords and British Isles.
The launch of Seabourn Ovation follows the delivery of Carnival Cruise Line's Carnival Horizon, the corporation's first ship of 2018, which was delivered in March. Carnival Corporation will launch two more new ships in late 2018: AIDAnova from AIDA Cruises and Holland America Line's ms Nieuw Statendam.
Carnival Corporation has 18 new ships scheduled for delivery to its fleet by 2023.