Lifeboat Called Out at Christening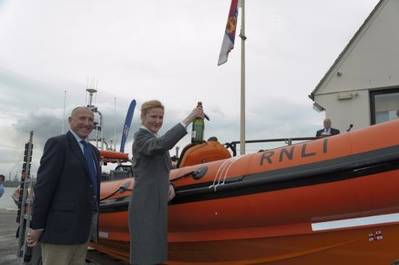 Immediately after the UK RNLI christening ceremony the new B-class lifeboat was called to a rescue from its Calshot base.

The name of a Welsh businessman was given to a lifeboat which will save lives at sea for many years to come, But as some of Calshot RNLI's volunteer crew put the newly-named Max Walls through her paces for family and friends in front of the boathouse, they were called to assist other emergency services at an incident near Itchen Bridge. Lifeboat crew are ready to respond 24 hours a day, 7 days a week: the brilliantly prepared celebration tea would have to wait.


The new B class Atlantic 85 lifeboat arrived at Calshot in May this year, after a coastal review by the RNLI decided that it was better suited to the rescue needs of the area than the all-weather lifeboat. Fast, manoeuvrable and very reliable, the B class can operate in rough weather conditions. She has room for four crew members and can even be beached in an emergency without sustaining damage to engines or steering gear.



As she handed the new lifeboat into the care of the RNLI by Kay Gibson, a close family friend of Max Walls, said: 'If Max were here today he would be a very proud and happy man.' The lifeboat was then officially named by Kay's daughter, Donna Gibson.