Churchill Drilling Invests and Expands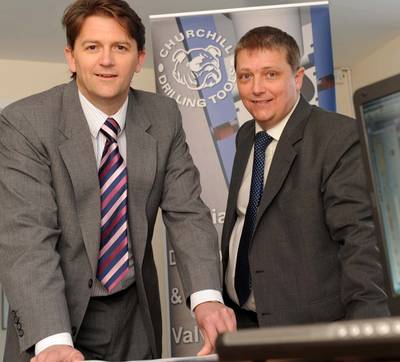 Churchill Drilling Tools Targets More Success With Product Reliability.

Aberdeen-based drilling systems specialist Churchill Drilling Tools is to invest half a million pounds and expand its workforce to meet growing demand for its revolutionary technology. The company is on course to record a turnover of £3.5million in this financial year with results up by about 30% on 2011. With more than a decade of hydraulic design experience, Churchill Drilling Tools has produced a range of patented performance and safety improvement technologies, used by more than 50 operators worldwide.
The specialist engineering company, focused on delivering innovative systems for the drilling and completion sectors, achieved its 100% reliability target for its DAV MX™ dart activated valve in 2011, which enabled it to ramp-up production in Aberdeen. The firm's success story has continued with increased investment in both personnel and production facilities. Churchill will invest £500,000 in its Crombie Road facility over the next two years – significantly expanding its production offering and further recruiting both back office and technical team members. Churchill currently employs 20 staff in Aberdeen. Central to the company's growing reputation is its unique product offering, designed by managing director Andy Churchill.
A key driver for the company's success is its Smart Dart activation technology, and its flagship product ¬– the DAV MX dart activated valve, which enables users to secure optimal flowpath configuration by delivering versatile bypass on demand. DAV MX achieved 100% reliability last year and is a major development in drilling Bottom Hole Assemblies (BHAs). Using the tool, the bypass process becomes far more efficient and effective ¬– simpler, more accurate and versatile it is up to four times faster than the traditional technique involving extruding balls.

Andy Churchill said: "Throughout 2011 the DAV MX retained its pressure integrity, opened with every opening dart and closed with every closing dart. This is a major achievement in a drilling environment. "It is always tempting at the beginning of the product life-cycle to go into full-scale production after just a few successful runs, however our customers drill in many different environments. "To support these product lines we have recruited in all areas of the business – from supply chain management, right through to customer service – which has taken our staff up to 20 in Aberdeen. It's important to us that our equipment offers performance and reliability in any well, whatever the length, angle, depth, pressure or temperature, so we have invested a lot of resources in research and development and in monitoring tool performance, and the results speak for themselves."
Churchill is further developing its global servicing infrastructure to support continuing growth, thanks largely to the reputation its products have generated for both reliability and performance in the field. Demand in Europe and strong growth in North American and Far Eastern markets for its drilling valves is also positioning the company as one of the industry's leading suppliers in downhole valve technology. Now the dart has been successfully applied to other product categories, providing the company with the valuable opportunity to extend its portfolio into further areas of the market. Churchill also have an ongoing program for overseas centres to develop a global capability for customer support and service, with encouraging results in Europe, Australasia and the Gulf of Mexico.
Co-director Mike Churchill explained: "The team has been able to identify other applications for this dart technology and then convert them into new formats, including float and pressure testing equipment. We are very excited with the results so far and have already had a successful run in Norway in the pressure testing category and we expect to be launching further new lines in 2012."