Clarkson's Maritime Market Analyst Wins Medal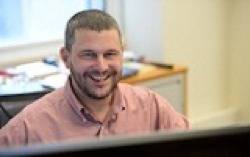 Clarkson Capital Markets (CCM) equity analyst, Urs Dur, winds silver medal for being one of the industry's top stock tipsters.
The award was in the marine category in this year's Thompson Reuter's annual 'StarMine Analyst Awards' which are issued in collaboration with the 'Financial Times'.
Clarkson Capital Markets (CCM) is the investment banking arm of Clarkson PLC, focussed on the global maritime, energy and natural resources sectors.