Russian Coastguard Quell Greenpeace Arctic Protest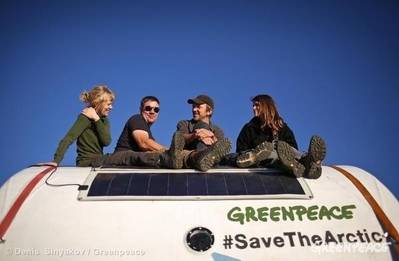 Greenpeace say that Russian authorities are holding 30 of their activists on board the protester's vessel 'Arctic Sunrise' after their attempt to board a Gazprom drilling rig in the Pechora Sea. The protester's blogger, Ben Ayliffe, is head of the Arctic oil campaign at Greenpeace UK, and he comments:

[The detention] comes after officials from the Russian security service FSB, armed with guns and knives, abruptly stormed the ship using a helicopter and ropes. Once on the ship, they rounded up our activists and ordered them into the mess.
It was a swift and aggressive follow-up to the arrest of two other Greenpeace International activists who climbed Gazprom's dangerous Arctic drilling platform earlier this week. They're now being held with their fellow activists.
As part of this protest, Greenpeace International carried a 'safety pod' to the Gazprom platform to shield the activists from things like water cannons. According to Russian media reports, Gazprom has described the pod as 'resembling a bomb'. The pod measures 3 meters long by 2 meters wide (about the size of a Mini), is painted in bright colours, and was made following a public competition.

Clearly this is ludicrous. The pod is a big foam tube. Non-violence has been enshrined at the core of Greenpeace for more than 40 years. We engage in peaceful protests to expose environmental crimes. We posed no safety threat."

This illegal boarding of our ship the Arctic Sunrise will not prevent us from exposing Gazprom's dangerous drilling to public scrutiny. It will shine a light on the special treatment the oil industry receives in Russia. It will fuel the resolve of the many millions of people who are demanding an end to oil drilling in the Arctic.