Comark Corp New Panel Mount Computers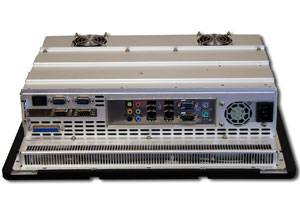 Comark Corporation, designer and manufacturer of ruggedized custom computer solutions for the marine and military markets expanded its portfolio of display and computer solutions by announcing the availability of the MDU PC Panel Mount Computer Series.

The MDU PC Series combines the functionality of a computer, display and optional touchscreen into a modular assembly. The MDUPC-15, MDUPC-19 and MDUPC-20 (15", 19" and 20" displays respectively) are designed for military and rugged commercial marine markets. The computer features a range of processing from Celeron M to Core 2 Duo Mobile, up to 4GB RAM and compact flash up to 32GB and beyond. The LCD features full dimming capability, with sunlight readable and LED backlit options. These displays can all be configured to full military specifications, including MIL-STD-810F, MIL-STD-461E, MILSTD-167, or for commercial applications, EN-60945, with ABS type approval expected in the spring of2009. All electronics are conformal-coated to protect against corrosion. The MDU PC is perfect forECDIS Navigation, machinery control and other HMI flat-panel applications.