British Warship Helps Commemorate 1812 War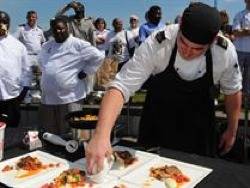 HMS Montrose joined warships for bicentennial celebrations in New Orleans
HMS Montrose has spent six days in New Orleans helping Americans begin bicentennial commemorations of the 1812 war. The Devonport-based frigate joined ships from the USA, France and Canada berthed on the famous Mississippi waterfront for the festivities.
It's famously called 'The Big Easy', but the six days HMS Montrose spent in New Orleans were far from relaxing as she joined Americans commemorating the last time the two countries fought each other.
Montrose was the UK's representative at the opening of bicentennial events to mark the War of 1812 - a war partially caused by the Royal Navy, and one which saw British warships engaged from the Great Lakes to the Eastern Seaboard and the Gulf of Mexico.
To kick-off commemorations, the Americans invited warships from the UK, Canada, France, Ecuador and Indonesia to join their own warships and Coast Guard vessels on the Mississippi for New Orleans Navy Week 2012.
After completing a challenging 112-mile (180km) passage up the Mississippi, Montrose berthed in the shadow of New Orleans' iconic Crescent City Connection, a cantilever bridge spanning the 2,180-foot-wide (664m) river.