Superyacht 'Adastra' Wins WSA Design Commendation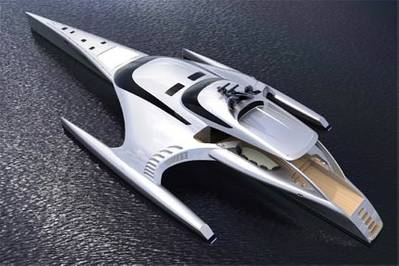 Shuttleworth Design's 'Adastra' wins a 'Judges' Commendation for Most Innovative Design' at the 2013 World Superyacht Awards.

Shuttleworth Design was responsible for her exterior design, naval architecture and interior layout. Structural design was by Shuttleworth Design and ASTA, Jepsen Designs styled her interior, and she was built by McConaghy Boats.
The imposing 42.5m Trimaran Adastra was launched in 2012 in China for Hong Kong clients Anto and Elaine Marden.
According to the judges (as reported by Boat International Media) Adastra was very different. A remarkably low hull weight of 52 tonnes, a usable volume of 139 GT and a top speed of 23.2 knots, combined with her dynamic exterior shape and extremely low fuel burn of around 20 litres/hour at her economical 10.5 knot cruising speed, led the jury to award a judges' commendation for extremely innovative design

http://www.john-shuttleworth.com/adastra.php