Blue North Order 'Green' Alaska Commercial Fishing Boat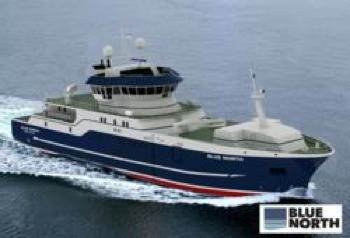 Blue North has contracted Dakota Creek Industries in Anacortes, Washington, to build an eco-friendly, technologically advanced fishing vessel.
The innovative "green" boat – which will be completed in the fourth quarter of 2014 – was specifically developed for the Alaska cod hook-and-line fishery, and was designed by Skipsteknisk AS, a Norwegian ship design firm.
The new state-of-the-art Blue North fishing vessel offers five key environmental and safety advantages.
The boat will deploy hook-and-line gear, which means that one fish will be caught at a time, with a focus on quality, as opposed to quantity; the benefit here is that the small lines leave a greatly reduced environmental footprint on the bottom of the ocean, compared to other gear types.
The boat will be constructed with an internal haul station – a first in the United States.
It will efficiently utilize proteins that currently go to waste, with the ultimate goal of 100 percent utilization.
The new Blue North vessel will offer lower emissions and fuel savings of an estimated 30 percent or more, versus conventional designs.
The vessel will greatly enhance the safety of life at sea. Its internal haul station means that crews will no longer be exposed to rough seas and freezing temperatures for hours on end.
"This boat is the culmination of 30 years in business," says Michael Burns, Blue North's Chairman. "Not only is it cutting edge in terms of technology, the environment, safety, and comfort for the crew, but it's also a beautiful vessel."

Says Maria Cantwell, U.S. Senator from Washington state: "Today's announcement of a new fishing vessel for Blue North is great news for our fishing and shipbuilding industries. This construction will support shipbuilding jobs in Anacortes while adding to a strong legacy of building cutting-edge fishing vessels in Washington state."