Guzmán Re-elected Harbor Commission President, Long Beach Port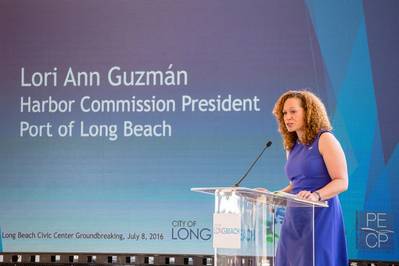 Harbor Commission President Lori Ann Guzmán was re-elected Monday evening to serve a second one-year term leading the board that oversees the Port of Long Beach, the nation's second-busiest seaport.

The five-member Long Beach Board of Harbor Commissioners also selected Lou Anne Bynum as Vice President and Tracy Egoscue as Secretary, continuing in the roles they have served in for the past 12 months.

Each July, the Commission selects from its own members the President and the other Board officers for one-year terms.

Guzmán, who is the Director of Finance for the City of Huntington Beach, was appointed to the Harbor Commission in 2013 by then-Mayor Bob Foster. The Commission President chairs Board meetings and represents the Port to the public. Guzmán was first selected as Board President in July 2015.

"I'm grateful to my fellow commissioners for this opportunity to build upon the successes of former commissioners. We have accomplished much by building on the Port's foundation of social and fiscal responsibility. We increased community sponsorships and reached major milestones on our capital improvement projects," Guzmán said. "I look forward to continuing my work with the community, our customers, Harbor Department staff and the City of Long Beach. I want to thank my fellow commissioners for putting their faith and confidence in me."

Under the City Charter, the Mayor of Long Beach appoints city residents to the Harbor Commission to six-year terms. Commissioners oversee the Port and direct the Port CEO, who in turn manages the more than 500-person staff of the City of Long Beach Harbor Department in the development and promotion of the Port of Long Beach.

The Port of Long Beach is one of the world's premier seaports, a gateway for trans-Pacific trade and a trailblazer in goods movement and environmental stewardship. With 175 shipping lines connecting Long Beach to 217 seaports, the Port handles $180 billion in trade annually, supporting hundreds of thousands of Southern California jobs.