USS Somerset Commissioned in Philadelphia Ceremony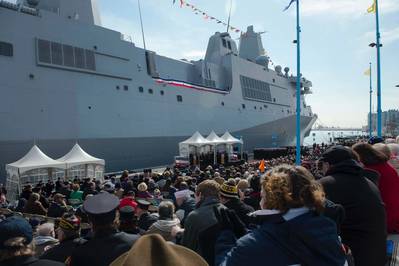 Thousands of Navy and Marine Corps supporters attend the commissioning ceremony of the San Antonio class, amphibious transport dock 'USS Somerset', named to honour those who sacrificed their lives when the hijacked United Airlines Flight 93 was brought to the ground on Sept. 11, 2001 in a field in Somerset County.
Distinguished guests included the Chief of Naval Operations (CNO), Adm. Jonathan Greenert and the Honorable Pat Toomey - United States Senator, Commonwealth of Pennsylvania.


The Commandant of the Marine Corps, Gen. James F. Amos, delivered the principal address and spoke of the ship and employment to the nation.

"Somerset is a welcomed edition to the Fleet, make no mistake, this vessel along with the other San Antonio Class Amphibious ships represent America's commitment to security around the world," said Amos. "When this ship sails the worlds oceans, she will carry the spirit and determination and the fighting spirit that has always defined America."


Somerset's commanding officer, Capt. Thomas L. Dearbon, spoke of her crew and her namesake's heroic actions.

"We are here today to not only honor and pay tribute to the heroes of United Flight 93, but also to celebrate the commissioning of this great ship USS Somerset," said Dearborn. "Somerset will leave a legacy that will never be forgotten by those wishing to do harm to this country. A ship is but a steel vessel, it is the crew that brings the ship to life. USS Somerset is truly a fine warship and the crew that mans her, is second to none."



At the conclusion of the remarks, Somerset's ship sponsor, Mrs. Mary Jo Myers, the wife of former Joint Chiefs of Staff retired Air Force Gen. Richard Myers, gave the time-honored command to "man our ship and bring her to life!"