Dubai's DD World & MW Host Argentine Trade Commissioner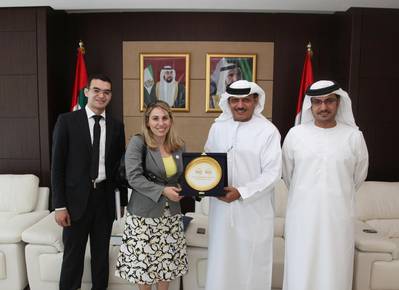 Drydocks World and Maritime World, hosted Ms. Maria De Los Angeles Arrieta, Counselor & Trade Commissioner with the Embassy of Argentina in U.A.E.
His Excellency Khamis Juma Buamim, Chairman of Drydocks World & Maritime World received the Counselor & Trade Commissioner and provided an overview of the wide-ranging projects and services offered by the company.

Ms. Maria expressed keen interest in the operations of the Company and expressed her intention to support the various initiatives.
H.E. Buamim, referring to the world-class services being offered at Dubai Maritime City (DMC) and the new projects of the company stated, "We are indeed delighted to provide a world-class facility to international investors including those from Argentina to enable them to base their operations from the maritime hub and to build a network throughout Middle East, Africa and the sub-continent.

In addition to excellent infrastructure and logistical support, investors can rely on the readily accessible government departments who are willing to offer all assistance for easy set up. A number of international companies are already operating from DMC, which is one of the largest man-made mixed-use cluster facilities in the world."

The Chairman also highlighted the recent initiatives such as the industry's renowned MARE FORUM Shipping Summit, which will be making its Dubai debut in 2014. He invited a high-level team of delegates from Argentina to take part in the event. HE Buamim also welcomed trade missions from shipping and marine industries and stressed his support for these initiatives that support global industrial interaction and smoother overseas Investments.