President Trump Commissions USS Gerald R. Ford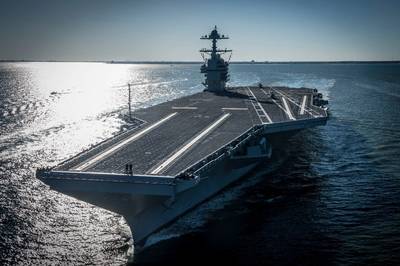 President Donald J. Trump commissioned the aircraft carrier USS Gerald R. Ford (CVN 78) at a commissioning ceremony July 22.
A commissioning is a day of celebration, and honors the dedication, team work, and collaboration of Sailors, legislators, shipbuilders, program managers, and the ship's sponsor in delivering the ship to the fleet.
Trump landed on the flight deck in Marine One and was greeted by Secretary of Defense James Mattis, Acting Secretary of the Navy Sean Stackley, Chief of Naval Operations Adm. John Richardson, and USS Gerald R. Ford Commanding Officer Capt. Rick McCormack.
Over 10,000 friends and family members attended the event, watching the festivities from the hangar bay, the pier and USS Dwight D. Eisenhower (CVN 69).
Distinguished members of the party offered remarks to honor the occasion.
"Wherever this vessel cuts through the horizon, our allies will rest easy and our enemies will shake with fear because everyone will know that America is coming and America is coming strong," said Trump. "Our true strength is our people. Our greatest weapon is all of you. Our nation endures because we have citizens who love America and who are willing to fight for America."
He continued, "We are so very blessed with warriors who are willing to
serve America
in the greatest fighting force in history, the United States military. Today this ship officially begins its role in the noble military history of our great nation."