Russian Navy Commissions SSBN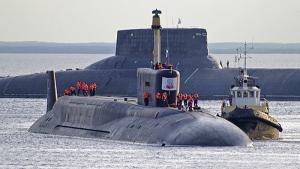 Project 955 Borei nuclear-powered ballistic missile submarine (SSBN) 'Yury Dolgoruky' commissioned into Russian Navy.

Project 955 Borei fourth-generation submarines were developed by the Rubin Central Design Bureau (St. Petersburg). New technologies of shipboard radioelectronics and noise reduction were applied during their construction.

Basic weapon of the Borei-class submarines is the ballistic missile system Bulava. Each sub may carry 16 solid-propellant ballistic missiles R-30 Bulava with a flight range of over 10,000 km equipped with independently targetable reentry vehicles.

Warhead of each Bulava missile consists of six reentry vehicles. Submarines are equipped with a surfacing rescue chamber capable to accommodate all crewmembers.

SSBN Yury Dolgoruky was laid down in 1996 at Sevmash shipyard. Two batch subs, Alexander Nevsky and Vladimir Monomakh were laid down there in 2004 and 2006 respectively. The first of them is undergoing shipyard's trials, while the latter is under construction.

In May 2012, defense ministry and United Shipbuilding Corporation signed three contracts for modernized Project 955A submarines; each of those 5 submarines will be capable of carrying 20 Bulava ballistic missiles.