Buss Data to Receive Complete Broadband Communications Solution from Vizada and Telemar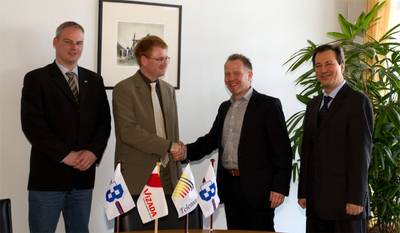 Hermann Buss fleet will be equipped with Inmarsat FleetBroadband and a range of value-added solutions

Hamburg, 9 March 2011 – Vizada, the leading independent satellite communications provider and Telemar, the leading integrated service and maintenance provider, have just signed a 3-party deal with the German IT company Buss Data GmbH, a part of Hermann Buss Group, to provide a high-performance broadband communications solution for the company's fleet of vessels.

The Hermann Buss Group shipping company based in Leer, Germany specializes in commercial shipping and runs a fleet of over 85 vessels. Its Buss Data business unit develops customizable software systems which cover all aspects of ship management such as purchasing/ordering, maintenance, crew welfare, insurance as well as a complete system for document filing. Telemar and Vizada were awarded this contract to provide communications systems onboard Buss vessels and over the course of the 2-year deal, Buss Data will equip the whole Buss Shipping Company fleet with the newest generation of Inmarsat FleetBroadband terminals. Telemar will take care of the hardware and technical maintenance of the terminals, as well as of the airtime management and billing, while Vizada will provide reliable satellite communications and customer care.

Buss Data's aptitude to develop ship management applications will benefit from Telemar's capabilities as the leading maritime service provider and systems integrator. "An enhanced Inmarsat FleetBroadband project for Buss' a state-of-the-art fleet is all about integration: Telemar will provide support to integrate systems and applications, based on field understanding of top end users' needs," comments Achim Bomm, CEO of Telemar Germany.

"We have been using the FleetBroadband technology for over a year now and experiencing the advantages it brings to our everyday communications – this helped convince us to exchange the existing terminals for the new Thrane & Thrane FleetBroadband 250 systems," stated Mr. Schoone, technical engineer in nautical equipment for Buss Data.

The value-added Vizada SolutionsTM help customize this communications package by offering more flexibility to administrators and crew. Vizada's Terralink® Data Manager and The Source® will be deployed with the new FleetBroadband terminals in order to provide further control and money-saving solutions to the company while SkyFile® Antivirus ensures secure IT systems.

"Buss Data continues to develop advanced software products for the shipping industry which require secure bandwidths for data transfers. Our aim is to utilize Telemar expertise and Vizada technology to minimize transfers and reduce costs," Mr. Kleinau, commercial analyst for Buss Data says of the three-party contract.