Offshore Atlantic Contract Completed by Ocean Installer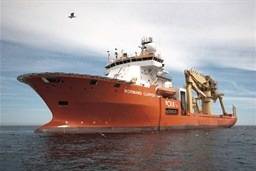 Norway's Ocean Installer company employed its CSV 'Normand Clipper' to complete deep-water contract in N. Atlantic.

The contract was for part of the development of the Corrib gas field and it required the survey of a 20-inch, 83km long offshore pipeline and the relocation of about 250 boulders, clearing a 12-metre wide corridor in an umbilical lay route.

The work commenced in early August and was successfully completed using the highly efficient construction support vessel (CSV) Normand Clipper.

The Corrib field is located in the Atlantic on the west coast of Ireland in blocks 18/20 and 18/25. Maximum water depth is approx. 357m. Shell E&P Ireland Ltd. has the operatorship of the Corrib field. Shell E&P Ireland Ltd. is the developer of the Corrib gas project, while Statoil Exploration (36.5%) and Vermilion Energy (18.5%) are partners.

Gas from the Corrib Field, which is expected to flow in late 2014 or early 2015, has the potential to supply up to 60% of Ireland's gas needs at peak.