IPS Completes Repair Job for Stena Line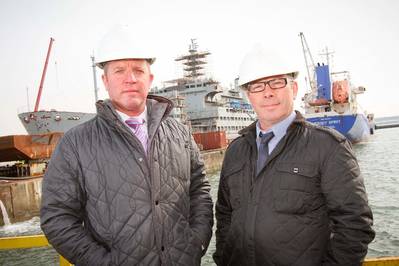 Engineering firm IPS Marine Fabrications said it has completed major upgrade work for ferry operator Stena Europe.

The company, which is headquartered in Birkenhead, has repaired and maintained fabricated air handling units throughout the Stena Europe vessel.

IPS manufactures insulation products, particularly aimed at the marine industry, and has in-house machining facilities.

Director Paul Smith said the project was completed while the Stena Europe, which operates between Fishguard in South Wales and Rosslare in the Republic of Ireland, was afloat.

"These units regulate the air conditioning on the Stena Europe therefore they form a vital part of its operations in relation to staff and passenger comfort," Smith said. "The fabricated air handling units are designed and fitted to ensure maximum durability and minimal maintenance. All work was carried out to SOLAS standards."

Smith added, "Few if any other companies can offer the range of insulation and fabrication skills we do. This means we can reduce the management time our customers need to devote to jobs. Customers do not have to employ five or six firms to get all the services they need, we can offer a complete fabrication and insulation service. Reduced management time immediately saves customers money.

"Our skill set further enables us to offer a high quality service and value for money. We know what we are doing, we have years of experience and our workmanship lasts. Frequently our work lasts twice as long as our competitors which again saves customers money as repairs and maintenance is kept to a minimum."

Smith said IPS had major ambitions for 2014 after doubling its workforce in 2013 to 30. It has also invested heavily in new equipment, including £80,000 on new sheet metal fabrication machinery, a press brake and drawn arc stud welding machines.