Concordia Damen to Build Training Vessel for STC Group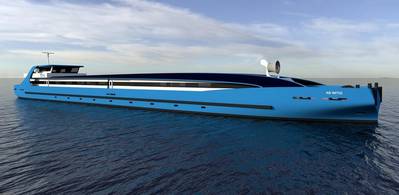 Concordia Damen said it has been selected to build a new training vessel for the STC Group for delivery in 2022.
The new, environmentally conscious vessel will replace two training vessels – the Princess Christina and the Princess Beatrix – that the Rotterdam-headquartered maritime training institution has used to train students for more than 50 years.
In 2018, students and teachers at STC Group, along with supporters from the business community, began to develop the ideas behind the vessel. The decided upon the name Ab Initio – Latin for 'in the beginning'.
Concordia Damen participated in a tender process featuring numerous technical and environmental requirements. The vessel will draw upon Concordia Damen's expertise in sustainable shipping solutions, the shipbuilder said. It will feature a hybrid diesel-electric propulsion system complete with battery pack. Additionally, Ab Initio will feature solar cells.
As well as being uncompromising in its stance towards sustainability, STC Group required that the vessel be futuristic and distinctive, yet recognizable in appearance.
Concordia Damen will carry out the outfitting of the vessel at its yard in Werkendam, the Netherlands.