Costa Concordia Salvage to Take a Year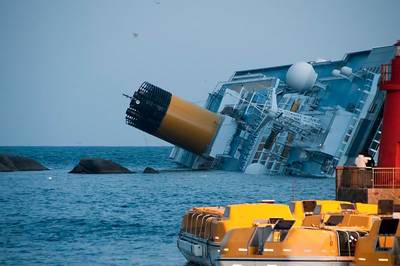 Costa Cruises salvagers Titan-Micoperi plan to float Costa Concordia, tow it away, expected to take a full year's work
Titan Salvage, a U.S. company owned by Crowley Maritime Group, with Micoperi, an Italian company specializing in underwater construction and engineering have been contracted to refloat the wrecked Costa Condordia and tow it away.
The plan, which will re-float the vessel's hull, places the highest priority for ensuring the lowest possible environmental impact as well as the conservation of tourist and economic activities on the island of Giglio, with maximum safety precautions.
There are four stages of operation in the salvage plan, as follows:
• First, once the ship has been stabilized, an underwater platform will be built and watertight boxes, or caissons, fixed to the side of the ship
• Two cranes fixed to the platform will pull the ship upright, helped by the weight of the caissons, which will be filled with water.
• When the ship is upright, caissons will be fixed to the other side of the hull to stabilize it.
• Finally, the caissons on both sides will be emptied, after the water inside has been purified to protect the marine environment, and filled with air.
Once afloat, the wreck will be towed to an Italian port and after that the salvage team will clean up the waters and restore the marine flora.