George H.W. Bush CSG Conducts OIR Missions Against ISIS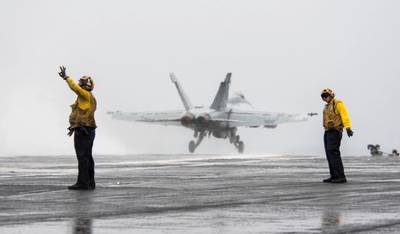 The George H.W. Bush Carrier Strike Group (CSG) is currently launching missions against the Islamic State of Iraq and Syria (ISIS) in support of Operation Inherent Resolve (OIR) from the Arabian Gulf.
Rear Adm. Kenneth R. Whitesell, commander, CSG 2, said the missions are part of the key to accelerating the fight against ISIS.
"The superb efforts made by the men and women of this strike group will be critical to continuing this fight," said Whitesell. "The George H.W. Bush Carrier Strike Group brings a flexible, mobile and lethal multi-mission strike force to work with our allies and partner nations to engage ISIS and the threat they pose to the region and the greater international community."
Whitesell credited the strike group's readiness on the extensive training leading up to deployment.
"This is what we've been training for," said Whitesell. "We're ready to support the mission wherever and whenever we're needed. We have a crew of highly-trained, warfighting professionals ready for this mission, and I know that we, along with our allies and regional partners, will be successful."
OIR is the unwavering resolve and commitment of the U.S and partner nations in the region and around the globe to eliminate the terrorist group ISIS and the threat they pose.
The George H.W. Bush Carrier Strike Group is comprised of the staff of CSG 2; USS George H.W. Bush (CVN 77); the nine squadrons and staff of Carrier Air Wing (CVW) 8;
Destroyer Squadron
(DESRON) 22 staff; guided-missile destroyers USS Laboon (DDG 58) and USS Truxtun (DDG 103); and Mayport-based guided-missile cruisers USS Philippine Sea (CG 58) and USS Hue City (CG 66).