Lukoil, Conocophillips' YK Field Production Begins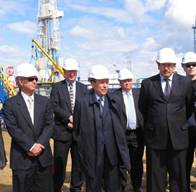 One of the biggest fields in the north of the Timan Pechora oil and gas province, this field is developed by OOO Naryanmarneftegaz, a LUKOIL and ConocoPhillips joint venture (70% and 30%, respectively).
The field was discovered in 1981. Oil quality there surpasses the Russian Urals export blend quality: its density is 35.5 API (Urals, 32.0 API), and sulfur content is 0.71% (Urals, 1.3%).
The first stage comprises 32 development wells, an oil treatment unit, an oil desulfurization unit, a tank farm with the total volume of 40,000 m3, a power supply complex with the rated capacity of 125 MW, and other units.
Startup of the second stage of the YK field is scheduled for December 2008, at which time an additional 32 wells will be put into operation and a high-pressure compressor station and sulfur disposal and storage facilities will be completed.
The design oil production level in the field is expected to reach 7.5 million tons a year (more than 150,000 barrels per day) in 2009.
Oil produced at the field is transported by a 158-kilometer-long oil pipeline (530 mm in diameter) to the Varandey Oil Export Terminal located on the Barents Sea coast, with the capacity of 12 million tons per year, from where it is delivered, also through a floating storage facility in Kola Bay, by 70,000 ton deadweight tankers, for eventual sale to European and North American markets.