ConRo Ablaze in the Bay of Biscay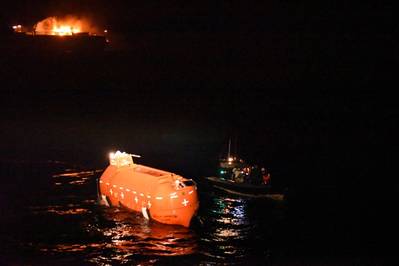 Twenty-seven people have been rescued from an Italian-registered cargo ship that caught fire Monday night in the Bay of Biscay, about 150 miles southwest of Brest.
The Grimaldi Group owned combination container roll-on/roll-off (ConRo) vessel Grande America was sailing from Hamburg to Casablanca when its cargo of containers and vehicles caught fire around 8 p.m.
After attempts to battle the flames proved unsuccessful, the entire crew of 26 and one passenger disembarked into heavy seas aboard a single enclosed lifeboat and were rescued by the crew of British Royal Navy frigate HMS Argyll, which responded to the mayday call.
The lifeboat had been damaged and was without power, so the frigate's sea boat nudged the lifeboat against the side of the warship so Royal Marines could haul the Grande America crew aboard, the Royal Navy said.
"The conditions were horrendous – the vessels were rolling at 30 degrees which made it extremely hairy getting the sailors safely on board," said Lieutenant Commander Dave Tetchner, HMS Argyll's Weapon Engineer Officer.
The lifeboat was "bobbing around like a cork in a bathtub," he said.
The rescue lasted about eight hours, and the Grande America sailors are being taken to Brest. Lt Cdr Tetchner said none suffered life-threatening injuries but some would require hospital treatment and all were stunned by their ordeal.
"It was pretty awful for them – they'd had to fight a fire in dreadful seas. Every one of them suffered smoke inhalation," he said.
"Then they faced the prospect of abandoning ship and then their lifeboat failed. It was pretty awful all round and they were shocked.
"You see containerships like this every day when you're sailing around the world. What you do not see is one in flames – it was a dreadful sight."
The 28,000-metric-ton Grande America was still ablaze when Argyll left the vessel around 5 a.m. Tuesday, the Royal Navy said. French authorities said Tuesday that the ship is still burning and listing heavily to its right side. About 10 containers have fallen into the water.
Grande America continues to drift eastward and is currently more than 200 miles off the western coast of France, according to the latest update from France's Premar Atlantique.
French authorities had dispatched rescue tug Abeille Bourbon to battle the blaze, but firefighting efforts have since been suspended. The tug has left the scene and has been relieved by VN Sapeur.
Grimaldi Group has commissioned the salvage company Ardent, which chartered two tugboats: Union Lynx, from Vigo, Spain, scheduled to arrive on scene Tuesday evening, and Tera Sea Hawk, from Rotterdam, expected to arrive Wednesday night.