Alfa Laval Freshwater Generator Now Onboard New Constellation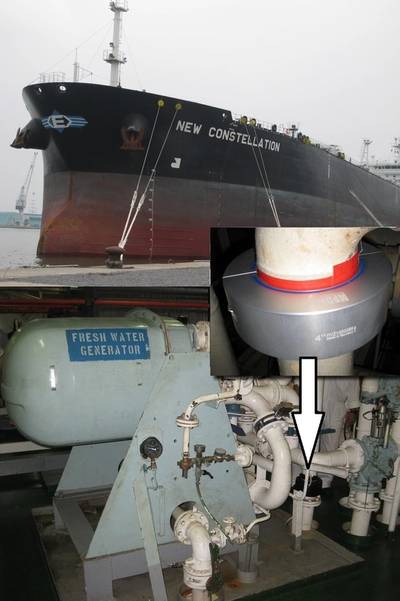 Pronomar received an order from Expedo Shipping Corporation Monaco, owners and operators of tankers, bulkers and general cargo ships trading worldwide and operating, both ashore and onboard, in accordance with the shipping industry's highest standards.
Expedo Shipping Corporation Monaco commit foremost to every aspect of safety and protection of the environment. This is where Pronomar came into play as Expedo Shipping contacted them for the environment-friendly MERUS ring solution to counteract scaling which posed a threat to the technical equipment onboard the oil tanker, New Constellation.


The Pronomar-MERUS rings, once installed, work in a very efficient yet highly environment-friendly way: after the installation (which is pretty easily done in relation to the maximum results they deliver) the rings give off tiny oscillations disturbing the lime scale, bacteria and/or maritime growth. Subsequently the troublemakers are simply flushed away leaving the respective equipment free from any harmful build-up. Apart from being maintenance free, the rings also bring back the initially experienced performance level and thus prolong the lifetime of the costly equipment in question. To sum up the MERUS rings signify excellent performance levels coupled with a significant decrease in operational and maintenance costs.