Wärtsilä X92 Engines the Choice for New 4 Turkish Container Ships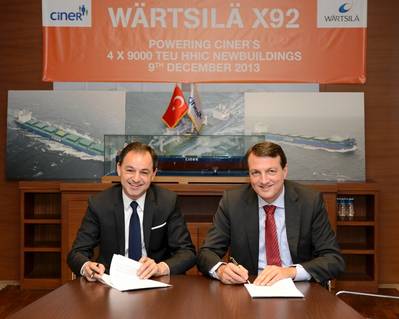 Wärtsilä say they are to supply their Wärtsilä X92 main engine for a series of four Post Panamax 9000 TEU container ships (with options for a fifth) to be built for the Ciner Group, based in Istanbul, Turkey.

Each vessel will be powered by an 8-cylinder Wärtsilä X92 engine and will be built at Hanjin Heavy Industries & Construction (HHIC) shipyard's facilities in Subic Bay, the Philippines.

The choice of the Wärtsilä X92 engine was based on its particularly high efficiency and environmental performance. The engine features Wärtsilä's proven electronically controlled common-rail technology, which through its uniquely flexible fuel injection and exhaust valve operations, enables a reduction in fuel costs. Other advantages of this technology include stable running speeds down to 12 per cent of the nominal speed, smokeless operation, and improved control of exhaust emissions.

"The Wärtsilä Generation X series of electronically controlled low-speed, two-stroke engines is absolutely in line with the current and future needs of the marine sector. The Wärtsilä X92 is designed to provide the reliability and lower operating costs that the industry now demands.

"Container vessels are a vital element within the transportation infrastructure, and environmental issues and fuel economy are likely to be the key drivers in maintaining the role of container transportation. Wärtsilä's competence in these areas has given it a leading position as a systems provider for extended ship power solutions in the large and ultra-large container vessel segment," commented Martin Wernli, Managing Director of Wärtsilä Switzerland & Vice President, Wärtsilä Ship Power, 2-stroke.

In the picture Vassilis Papakalodoukas, CEO of Ciner Shipping Industry & Trading Inc., and Martin Wernli.