Eimskip Gets Finance Deal for New Container Vessels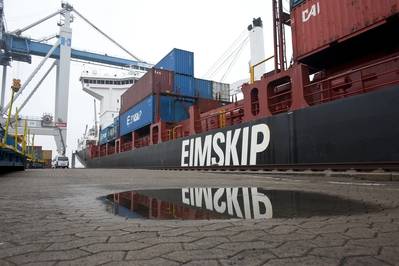 Eimskip has secured 80% financing of the contract price of the vessels with a 15 year tenor in Euros taken upon delivery.
The lender is the German bank KfW IPEX-Bank GmbH. The loan is secured by China Export & Credit Insurance Corporation (Sinosure).
The payment profile of the vessels is that 40% of the contract price is paid during the building period and 60% upon delivery. The contract was subject to financing and that has now been lifted.
Gylfi Sigfússon, President and CEO said: "It is great to see how well Eimskip is received and trusted by foreign credit institutions at the same time as the credit market for vessel financing has been in a challenging situation. The financing has a long tenor and has very favorable terms."
Gylfi added: "By securing this financing we are taking an important step towards the renewal of Eimskip's vessel fleet. These new vessels are the largest container vessels that have served in the North Atlantic in scheduled liner services and the ongoing expansion of the ports in Nuuk in Greenland, Reykjavik and Thorshavn in the
Faroe Islands will
make it possible for these large vessels to serve this market."
Eimskip is a leading transportation company in the North Atlantic with connections to international markets and is specialized in worldwide freight forwarding services, with the vision of providing excellence in transportation solutions and services.
Eimskip was founded in 1914 and is a publicly traded company with its shares listed at Nasdaq Iceland. The company runs a network of 61 offices in 20 countries, operates 21 vessels and has around 1,700 employees.