Maersk Buys, Reflags, Container Ships for US Trade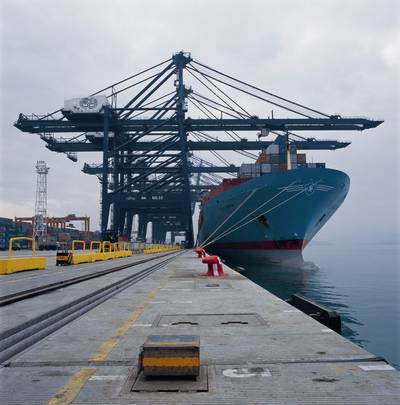 Maersk Line has purchased & is reflagging 8 newer and larger containerships to upgrade services provided to its U.S. military, government and commercial customers.
MLL's investment of approximately half a billion dollars in eight vessels will improve the quality of service to the Middle East and Mediterranean Sea from the U.S. East Coast. Since 2000, MLL has invested over $1.75 billion dollars to modernize its fleet in support of the U.S. government and military. The vessels are about 10 years younger than the outgoing ships, offering improved fuel efficiency and environmental performance.

"These eight newer vessels, along with the global transportation network that connects them, demonstrate our commitment to our customers. We are proud to serve the U.S. military and to deliver U.S. food aid worldwide," said John Reinhart, MLL's President and CEO. "MLL is focused on continual improvement, and these ships will further increase reliability and shrink our environmental footprint."

The vessels will join Maersk Line's weekly Middle East Container Line service (MECL1) throughout May and June. This route serves commercial customers and the U.S. military, and it transports U.S.-grown food aid. MECL1 will be the industry's only direct U.S. flag service to and from the U.S. East Coast and Pakistan, and the service includes a new stop in Algeciras, Spain.

All eight vessels will join the Maritime Security Program (MSP) and Voluntary Intermodal Sealift Agreement (VISA). "We are pleased to bring more modern and useful assets into the MSP and VISA fleets," said Reinhart. "The vessels will augment our nation's security and sustain jobs for the U.S. Merchant Marine, the fourth arm of our national defense."

"The efforts of the mariners onboard the transitioning vessels and colleagues ashore have been excellent, assuring a timely and smooth progression of the reflagging process," stated Reinhart. MLL works with four U.S. maritime labor unions to crew its fleet of 56 U.S. flag vessels and employs about 1,200 American seafarers every day.