Container-on-barge Returns to Baton Rouge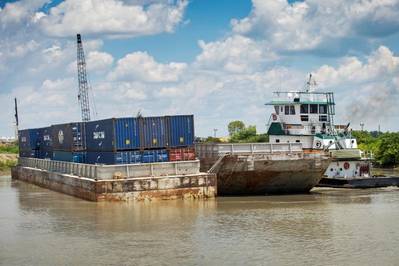 Container-on-barge services have returned to the Port of Greater Baton Rouge to provide the petrochemical industry with another option to move its products.
Operated by SEACOR AMH, the service transports empty containers by barge into the Port of Greater Baton Rouge and loads them at the Inland Rivers Marine Terminal with products from nearby industries. The IRMT is located on a slack water canal off the Gulf Intracoastal Waterway in Port Allen. The second leg of the service delivers and returns containers to and from the Port of New Orleans, via the Mississippi River.
"Since we started, the service has attracted area shippers in the petrochemical industry that currently move containers to, and through, the region," said Richard Teubner, Vice President of SEACOR AMH.
According to Greg Johnson, director of business development at the port, in some cases by utilizing the barge option, containers can be loaded to their capacity, gaining as much as 15 percent more cargo than over the road restrictions on weight limits using trucks. Each container can store up to five more tons of cargo than a truck is capable of handling, thus eliminating weight restrictions and further alleviating traffic congestion. And, it could certainly help in reducing ozone levels in the Greater Baton Rouge area, which is vitally important to future economic development for the port region, he said.
There are substantial benefits to shippers by choosing the new shuttle service, Teubner said. "Increasing the efficiency of their logistics chain is key," he explained. "We provide them an option that eliminates the congestion that can occur on both ends of the supply chain in the surface transportation system. Container-on-barge improves port throughput, reduces dwell time and also offers an additional overweight corridor for transportation."
Teubner also referred to the production schedules of the manufacturers: "The majority of these refineries have a 24-hours-per-day/7-days-per-week operation and they can load and receive containers all day long. But they can't deliver a container or pick up an empty 24/7 directly to the ports. Our facility in Baton Rouge will be able to better accommodate their production schedules."
The United States Maritime Administration (MARAD) has been supportive of the new shuttle service. In April, U.S. Transportation Secretary Anthony Foxx designated the new service as an official Marine Highway Project. "This designation will allow us to further our mission of moving commerce efficiently," said Jay Hardman, Executive Director of the Port of Greater Baton Rouge. "In addition, it will qualify us for federal grants that will also help us to successfully compete globally."