Long Beach Cargo Continues to Climb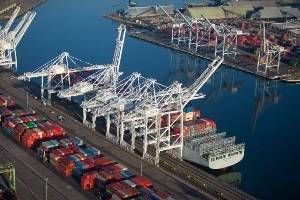 Cargo container traffic rose 7.3 percent in September at the Port of Long Beach compared to the same month last year, making for the Southern California seaport's busiest September since 2007, the Port's peak year.

A total of 629,771 TEUs (twenty-foot equivalent units) was moved through the Long Beach Harbor in September. Of those, 339,343 TEUs were imports, up 10.2 percent compared to September last year. Exports declined 12.1 percent to 118,412 TEUs. Empty container moves increased 19.1 percent to 172,016 TEUs. Empties are typically repositioned overseas to be refilled with goods.

Cargo numbers climbed in September largely due to the importation of products for the upcoming holiday shopping season. The jump in imports made this September the third-busiest import month in Long Beach's history. For the year to date, Port of Long Beach containerized cargo is up 1.7 percent.

With an ongoing $4 billion program to modernize its facilities, the Port of Long Beach continues to invest in long-term, environmentally sustainable growth.