Holland America Place Interior Design Contracts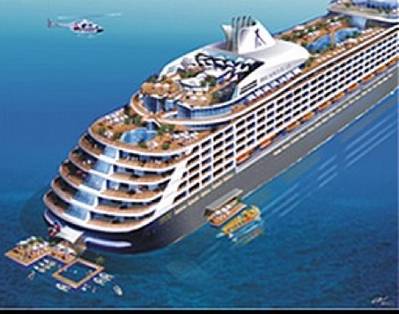 The company's new Pinnacle-class cruise ship to feature interiors designed by two leading firms.
Holland America Line has selected two design companies to create the interior spaces of the line's new 99,000-ton ship that is slated for delivery in February 2016. The first in a new Pinnacle-class of vessel, the ship will showcase decors by designer Adam D. Tihany and designer and architect Bjorn Storbraaten.
Tihany will join Storbraaten, who successfully worked with Holland America Line on Eurodam and Nieuw Amsterdam, in designing the ship's public rooms.
Tihany Design
Adam D. Tihany is regarded as one of the world's preeminent hospitality designers. After attending the Politecnico di Milano School of Architecture and Urban Planning, Tihany apprenticed at design firms in Italy. In 1978, he established his own multidisciplinary New York studio and in 1987 became co-owner of Remi restaurants.

Over the last 30 years, Tihany Design has become a leader in creating luxurious and innovative interiors at some of the world's most iconic properties, including the King David Hotel in Jerusalem, Beverly Hills Hotel in Los Angeles and One & Only Cape Town.
Yran & Storbraaten Architects
Founded in 1985, Yran & Storbraaten Architects is one of the world's leading architectural firms, specializing in cruise ship design. Known for working in a diversity of styles, the firm has developed a long international client list. As partners, Bjorn Storbraaten and Petter Yran have been pioneers in developing the luxury segment, achieving Y&S`s standing as one of the industry's best. Storbraaten worked on both Nieuw Amsterdam and Eurodam, as well as the Seabourn Odyssey, Seabourn Sojourn and Seabourn Quest, providing conceptual and architectural designs of restaurants, outdoor areas, lounges, theaters, nightclubs and bars.